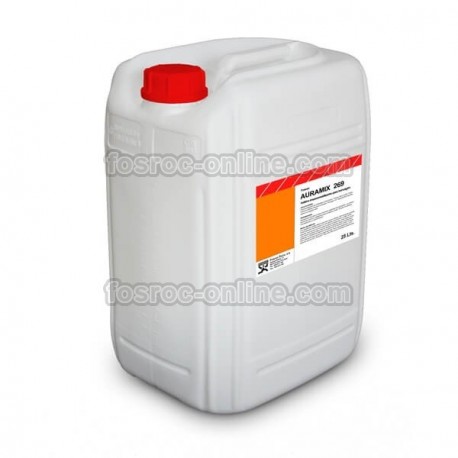  
Auramix 269 - New generation plasticiser admixture. High workability maintenance
New generation plasticiser admixture. High workability maintenance. Dosage: 0.5-1.2% over cement weight.
MORE THAN 20 YEARS OF EXPERIENCE
SHIPPING IN 48-72 HOURS
100% SECURE PAYMENT
Applications


To obtain a quality concrete, compactness, durability and resistance.
To obtain a concrete of excellent workability reducing the proportion of water of kneading and improving docility.
To achieve a maintenance of the workability of the concrete higher than that obtainable with conventional plasticizers.

Advantage


Strong reduction of water: between 15 and 25% according to the dosages used.
The incorporation of new synthesis molecules greatly improves the appearance and compactness of the concrete.
The plasticizing effect is maintained, even in hot climates.

Rules

Auramix 269 complies with UNE-EN 934-2: 2010 Table 2 as a water reducer / plasticizer.

Description

Auramix 269 is a multifunctional plasticizer, based on synthetic and natural polymers intended for the preparation of prepared concrete, with a high water reducing power and dispersant of the cement particles.

Typical dosage

The optimal dosage of Auramix 269 to achieve specific requirements should be determined by testing the materials and conditions under which it will be practiced.

A starting point for such tests is to employ a dosage of 0.5-1.2 liters per 100 kg of cementitious material, including ash, slag or microsilica.

Properties

The following results were obtained at a temperature of 20 ° C:


Appearance: Light brown liquid
Density: 1.08 ± 0.01 kg / l pH: 6.5 ± 1.0
Content in water-soluble chlorides (CI-): ≤ 0,10%
Alkaline content (Na2O equivalent): max.

7% by mass

Main function: Increase workability
Secondary function: Increase mechanical resistance