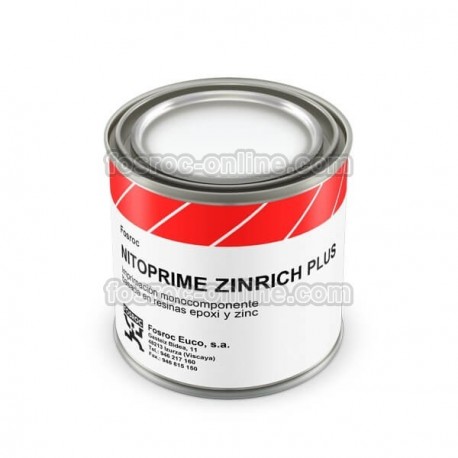  
Nitoprime Zincrich Plus - Single component zinc primer for steel reinforcement
Single component zinc primer for steel reinforcement. Epoxy and zinc resin based. High protection of reinforcement.
MORE THAN 20 YEARS OF EXPERIENCE
SHIPPING IN 48-72 HOURS
100% SECURE PAYMENT
Nitoprime Zincrich Plus is the recommended anticorrosion primer for exposed steel reinforcement for use with Fosroc concrete repair mortars. 
It is fully compatible with all Renderoc mortars and fluid micro-concretes.
Advantages
'Active' zinc-rich system combats corrosion by electrochemical means
Formulated for use with Renderoc repair products
Single component product — easy to use with no restrictive pot-life
Economical — single component ensures almost no waste
Description
Nitoprime Zincrich Plus is supplied as a single
component grey-coloured liquid based on metallic zinc
and epoxy resins.
Standards compliance
The product has also been approved by the British Board
of Agrément, Certificate No. 98/3461 as part of the
Renderoc System of Concrete Repair.
Specification clauses
Steel reinforcement primer
The steel reinforcement primer shall be Nitoprime Zincrich Plus, a single-component zinc-rich liquid packed and supplied ready to use. An unbroken 40 microns thick coating shall be capable of providing 'active' galvanic protection. It shall be a suitable viscosity to enable the coating to penetrate imperfections and pits within the surface of corrosion-damaged steel bars.
The formulation of the primer shall be such that drying occurs to allow the application of the repair mortar to proceed after 90 minutes at 20°C.
It shall be fully compatible with the Renderoc system of concrete repair.