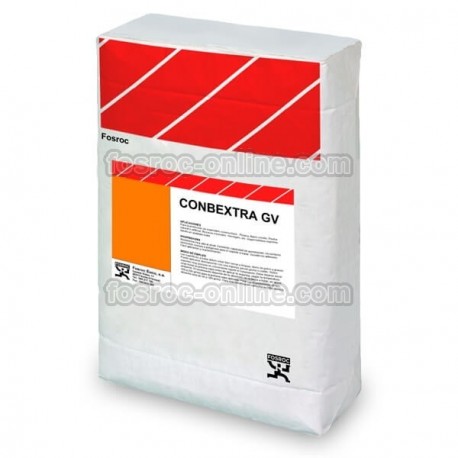  
Conbextra GV - Shrinkage compensated cementitious grout
Shrinkage compensated cementitious grout.
Gap depths > 70 mm.
Compressive strength at 1 day: 35 N/mm2 and at 28 days: 75 N/mm2.
Fresh density: 2.2 kg/l.
MORE THAN 20 YEARS OF EXPERIENCE
SHIPPING IN 48-72 HOURS
100% SECURE PAYMENT
Non-shrink, free flow, extra high strength grout
Uses
Conbextra AT is used for heavy duty support beneath load bearing units especially where high static and dynamic forces occur. Also as an efficient medium for transferring all operational loads to the foundation. And for effective grouting of base plates and bolt pockets of Turbo Generators, Diesel Generating sets, Crane and Transporter Rails even with high wheel loadings, Heavy Reciprocating Equipments, Compressors, Pump sets, Pulverising mills, Metal Shearing and Processing Machines, Steel Rolling Mill Beds, Cement, Textile, Granite and Paper Plant machinery.
Advantages
Nonshrink : Will continue to occupy the filled space without shrinkage. Ensures high level of contact with load bearing areas. Also helps complete filling without voids. No need for external aids like rodding, poking, chaining etc.
Increased strength: Can be used under heavy duty machines and equipment with high operational and static loads
Prepacked and factory controlled: Consistency and reliability ensured. Site batching and blending variations eliminated.
Iron free : No chance of deterioration by uncontrolled rust expansion, corrosion and staining of grout.
Chloride free : Does not cause corrosion of machine parts, anchor bolts etc., in contact with grout
Description
Conbextra AT is supplied as a ready-to-use dry powder, requiring only the addition of water to produce a free flowing non-shrink grout. The material is a blend of specially processed cement, pregraded fillers and additives which impart :
High early and final strengths due to very low water requirement
Controlled expansion to retain the original volume filled even after setting
Free flow characteristics without any segregation and bleeding
Conbextra AT, on setting, will have a microcellular structure with high frost, fire and oil resistance.